Meet our Patented Products: Superheated Water System ThermaTech®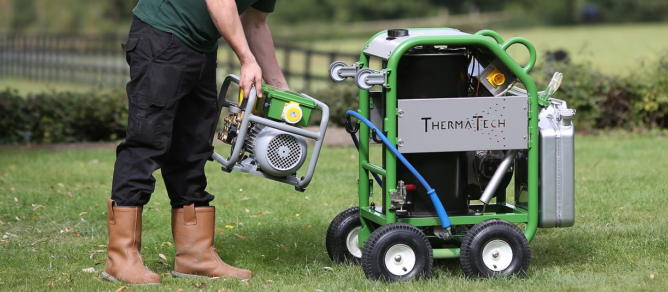 Getting your products patented can be a lengthy process, but it's a great way to protect the intellectual property of your inventions. We are extremely delighted to announce that we have now been granted a patent for the trademarked ThermaTech® superheated water system, originally filed back in January 2011. Here's a little bit more about our patented product, including how it all came about in the first place.
WHY THERMATECH®?
Since its introduction, ThermaTech® has quickly become established as a frequently named and specified cleaning and restoration method, being used in a number of important and notable projects. To date, it has been used on Royal Palaces (including the Palace of Westminster), Cathedrals, prestigious landmark buildings like Tower Bridge, as well as a wide range of other heritage structures. The system can be adapted and modified to all projects and we have specialised in providing expert technical assistance and advice to users so that they can get the most out of our product.
By buying ThermaTech® from us you will have access to expert advice straight from the manufacturers and engineers of the system.
Our patented technology means you are getting a unique and custom-designed superheated solution that is built around your needs.
WHY RESTORATIVE TECHNIQUES?
Everyone at Restorative Techniques are thrilled at yet another successful achievement: one of the many objectives that we had originally set ourselves. Developing patented technology means that not only do we have technical expertise and knowledge of materials and substrates in-house (for which we are renowned in the building conservation and restoration sector), but that we also have the appropriate engineering skills and capabilities to continue designing and manufacturing new innovations. It also provides clear evidence to a far wider market that this modular system, now protected by the patent, is only available through us and is fundamentally different from other systems available.
ORIGINS OF OUR EXPERTISE LIES IN INDUSTRY EXPERIENCE
Restorative Techniques was established to supply cleaning and restoration products with an emphasis on technical support, advice, knowledge and expertise that the company's Managing Director, Jamie Fairchild, has particularly become well recognised for. Having spent three decades creating detailed reports, giving professional advice and providing support on difficult substrates and materials, Jamie has the distinctive ability of being able to support both contractors and specifiers across a very wide range of projects. Jamie's reputation is sought-after and well regarded within the conservation and restoration sector.
INNOVATING WITH TECHNOLOGY THAT IS GENTLE, POWERFUL & ENVIRONMENTALLY-FRIENDLY
After years of 'front-line' service, Jamie recognised the conservation and restoration sector needed a new and innovative cleaning system that would be:
gentle yet highly effective
reliable and portable
operated by a single individual and easily loaded in and out of vehicles
straightforward to manoeuvre around site, including scaffold elevations
Realising that site considerations and regulations were likely to become even more restrictive in the future, Restorative Techniques set about designing ThermaTech® as a future-proof system that would go beyond existing site requirements and would incorporate key environmental benefits, such as reducing reliance on chemical products without compromising on performance.
TECHNOLOGICAL IMPROVEMENTS ENSURE OPERATIONAL SAFETY & EFFICIENCY
We recognised that there was a crucial need for site equipment to be designed in 110v from the outset, moving away from the adaption of 240v components.
This allowed for further advancements such as the taking of controls down to 24v, ensuring an even higher level of operator safety.
We understand that for any contractor, time is money and that system reliability is vital. If a problem arises, it needs to be diagnosed and remedied quickly, preferably by the operator whilst on site. ThermaTech® has been designed with full operational usability in mind: incorporating 24v 'plug-in' components, an easy-change fuel filter, dual thermostats and completely electronics-free diagnostics.
Interested in how patented technology and expertise can help you? Read more about the ThermaTech :