ThermaVac - Superheated water recovery system, for internal use
Where has it been used?
"I was quite amazed at how well the RT products worked"

Mark Hancock

Centreline Architectural Sculpture
A modular approach to design
ThermaVac is a simple addition to the ThermaTech modular cleaning system, allowing operatives to work internally and in other situations where waste water must be collected for transport, neutralisation and/or correct disposal. The ThermaVac composites comprise:
Recovery Heads
The standard sized recovery head is 120mm x 120mm, for use on relatively flat surfaces. Larger floor cleaning heads and custom solutions can be accommodated upon request.
Flexible exhaust ducting
A flexible exhaust duct can be supplied to direct warm, humid air away from the work area where condensation and increased humidity is not desired.
Detail gun
A detail gun is available to be used alongside a recovery head for surfaces and features where a recovery head alone would not be practical. Fitted with an appropriate nozzle, detail guns maintain an effective clean whilst minimising water run-off to a level that is easily handled by the vacuum recovery head.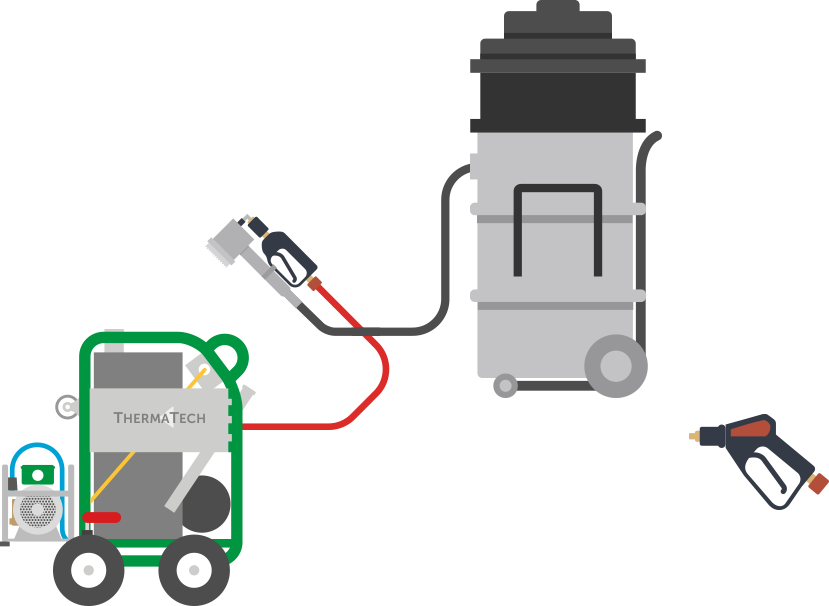 User Friendly Design
Designed for one person to load into and out of most vehicles safely. Can be transported in multiple positions.
Digital primary temperature control achieves more accurate temperatures, with less fluctuation, providing better efficiency.
Removable fuel tank, with lockable pick-up device minimises risk of serious fuel spillage on site.
Colour-coded High Pressure hoses aid quick set-up times and improve safety awareness. Cold hoses are Blue, Hot hoses are Red.
Numerous in-built safety features to keep machine, operatives and public safe.
Designed to be run on various fuel types* (or a mixture thereof) without adjustment to the fuel delivery system. [*Red or White Diesel, EN14214 Grade Bio-Fuels and 28 second Kerosene.]
Key Technical Details
IP67 rating on pump controls and electronics, exceeding current regulations.
Pump units have secondary outlets allowing: operatives to de-pressurise the system from the base unit (as opposed to de-pressurising from the trigger), easy priming when running from a static water supply i.e. a barrel or bowser and even for two boiler units to be run in tandem from one pump.
Ground up design incorporates environmentally responsible manufacturing processes with very little non-recyclable waste produced.
24v controls exceed current regulations and provide a safer working environment.
Five stage contamination separation in the fuel system ensures good, clean fuel supply achieving best possible boiler efficiency.
All switches have 'under-volt' and 'over-current' protection, which protects against the effects of improper power supply and overloading.
A visual gauge on the control panel allows operatives to gain an indication of the condition of the fuel filter, meaning routine maintenance can be carried out before it causes a problem.
ThermaTech utilises a particular angle of nozzle (40 degree), where most systems make use of 25 degree angled nozzles, that as well as being narrower in scope, will potentially provide slower and reduced work rates (and therefore increase labour costs), plus there is an increased risk of substrate damage